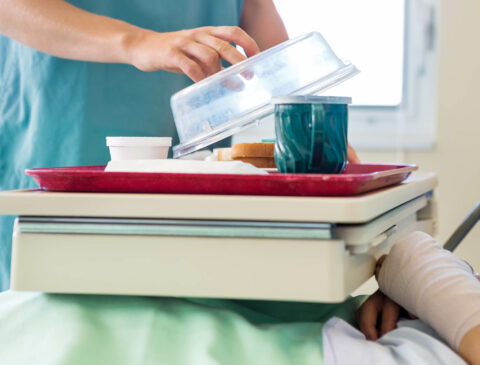 Due to the Affordable Care Act, hospitals have been forced to change the way they operate. Reimbursements are now being tied to patient outcomes, infection prevention, and patient satisfaction. There has also been a trend toward single patient rooms making floor space a premium. The elimination of any unnecessary cabinetry items in the rooms is important.With that in mind, a customer reached out to Curbell for assistance regarding new material options for their redesigned overbed hospital tables. In order to gain floor space, they incorporated drawers and shelves into their new design to eliminate the need for the bedside stand. Due to the new reimbursement structure, the plastic sheet material would need to be durable enough to increase the life of the product, improve aesthetics, withstand additional cleaning cycles, and offer a wide variety of color and texture options to complement any patient room design. With more vertical surface areas to cover, it needed to be easy to thermoform into a variety of shapes and edge treatments.
Variety of KYDEX® sheet options meet requirements for new design
After careful analysis of material options, the customer selected KYDEX® thermoplastics, which are durable, have color throughout the thickness of the sheet increasing product life and aesthetics. A variety of KYDEX® sheet grades and finishes provided the design flexibility needed along with regulatory compliance.