Therapists Learn to Create Burn Masks from PETG Sheet Donation
Physicians for Peace use Curbell Plastics' PETG donation for training purposes
Orchard Park, N.Y., December 15, 2021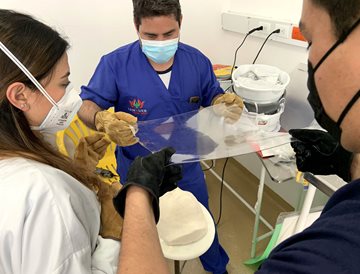 Curbell Plastics, Inc., one of the nation's top suppliers of plastic sheet, rod, tube, tapes, and fabricated parts, has resumed its support of the non-profit Physicians for Peace (PFP) with a donation of cut-to-size PETG sheet. Since 2017, Curbell Plastics has partnered with Physicians for Peace, a non-profit organization that works to strengthen delivery of surgical care to alleviate suffering and transform lives in under-resourced communities around the world.
Due to pandemic-related travel restrictions, PFP halted in-person training events beginning March 2020. Once workshops were cleared to resume, Curbell was able to help again by providing orthotic-grade PETG for the burn mask training event. PETG is frequently used for these masks and other burn management devices because of its excellent thermoforming characteristics, FDA compliancy, toughness and rigidity, and optical clarity. In November 2021, PFP volunteer instructors met with therapists from seven Latin American countries to teach them how to fabricate rehabilitative transparent face masks for burn victims.
Curbell Plastics donated several sheets of cut-to-size .06-inch-thick FDA compliant PETG for the therapists to heat and drape over a positive mold of a patient's face. The workshop trainers walked therapists through the process from casting a plaster mold of the patient to checking the mask's fit against the face and making minor adjustments to obtain the most effective therapeutic treatment results.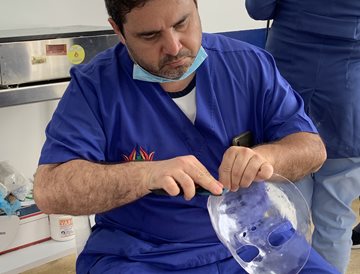 The workshop is designed so the therapists can perform the entire process with commonly available tools such as ovens, heat guns, and basic sculpting craft supplies. Generally the most difficult item to source is the transparent plastic sheet. In addition to the PETG donation for training
purposes, each attending therapist returned home with several cut-to-size sheets to continue practicing.
"Curbell plays a huge part," shared Bibiana Gama, the Program Director with Physicians for Peace, "without this material, we cannot teach therapists how to be resourceful and create these masks for their patients."
"Since first speaking with Bibiana, helping PFP has been a wonderful experience," said Jeff Wilson, Senior Business Development Manager for Curbell O&P. "From explaining the benefits of PETG plastic sheet for the burn masks to having the privilege of helping others has been personally rewarding for me. We look forward to the next time Bibiana calls on us to help."
About Curbell Plastics, Inc.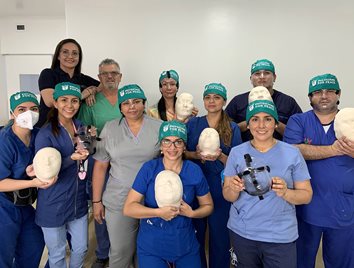 Curbell Plastics grew into one of the nation's top plastic materials suppliers by investing for the long term and focusing foremost on the needs of its customers — a strategy that has set the company apart since its founding in 1942.
Curbell supplies performance plastics — durable and lightweight materials that minimize energy consumption and add value to countless commercial and industrial applications — to thousands of businesses, entrepreneurs, Fortune 500 companies, and government agencies. The company also offers plastic film, adhesives, sealants, tapes, prototyping and tooling materials, and fabricated plastic parts. Its innovative services include a nationwide team of material experts to help customers solve engineering and application challenges.
Curbell Plastics, a privately held subsidiary of Curbell, Inc., has 21 locations nationwide and is based in Orchard Park, New York. It has ISO 9001 certification for eight of its locations and its corporate headquarters, and it maintains ITAR and EAR compliance company-wide.
MEDIA REQUESTS
Beth Summers
Curbell Plastics, Inc.
716-667-3377 x7439


[email protected]
Not sure which materials best fit your needs?
Our experienced sales and technical teams are available to assist you with material selection challenges.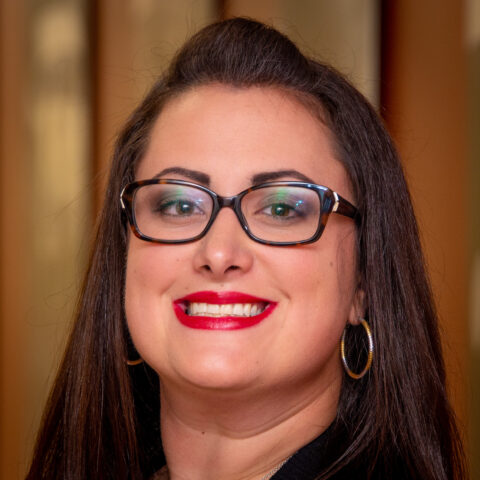 Have a Question?